Avie Pocket: Popstar
12/12/2015
Category:girls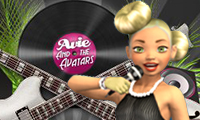 Avie Pocket: Birthday Avie's ready for the best birthday ever! Enter the bakery for that perfect birthday cake with juicy flavors and get Avie dressed up to be the centre of attention.
Autumn Girl Dress Up .
Astro Digger Astrodigger is single-player HTML5 arcade game. Meet Astrodigger and give him aid in collecting gold and minerals. Astrodigger appears on the alien planet with a special purpose.
Animal Heroes .
Angry flappy tomato If you tap on the left,low corner, on the angry tomato, you can detroy the cheesburger's in your way, and with help from Super Drops coming along the way, you win more bullets.
Angela Dress-Up Pick one of the items category and select the desired item. Tap on the item icon twice to remove it.
Angel Cutie Maker .
Android Escape .
Ancient Ore Step inside this treasure mine and find out how quickly you can match up all of these precious gems.
An Unnamed Cell Use mouse to move your red cell around.
Amigo Pancho 6 Amigo Pancho doesn't like helicopters—as far as he's concerned, balloons are the only way to fly.
Amazing Grabber With Amazing Grabber, get ready for the goodies bonanza! Tap the screen to help Haru, the mischievous pink monster, snatch as much precious stuff as possible.
Amazing Brick Tap to move the brick. Just like the original game.
Alienanza .
Algerian Solitaire Algerian Solitaire is the new solitaire game for everybody! Move all of the cards from the outer piles to the eight foundation piles in the center.
Airboss .
Again Super Ninja .
Adventures of Indiara The Adventures of Indiara are starting! Play with Indiara, a girl who loves to collect ancient artifacts.
Ace of the Pile Feeling lucky? Then try this online version of the classic card game Aces Up. Find out if you can gather all of the four aces that you'll need to win each round.
55Seconds .