Carol's Temp Job
11/15/2017
Help temp Carol to get ready for a hot date, but be careful that nobody notices you slacking off at work!
Category:girls,skill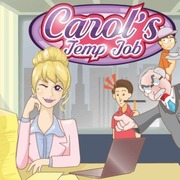 Save the Date .
Birdy Rush .
Kids Block Puzzle .
Boat Battles .
Selena True Make Up Selena needs a new style and you can dress her, do her hair and make-up complete the new look with the perfect accessory in this game of the True Make Up Series.
Save Butterflies Your task in this colorful bubble shooter is to match 3 or more bubbles of the same color and set the butterflies free.
Indi Cannon - Players Pack .
Circle Rush Make sure that both ball and obstacle have the same color to guide the ball through the patterns.
Christina True Make Up .
Nina Ballet Star .
Minimal Dots .
Eleven Eleven .
Racing Cars .
Nina - Surfer Girl .
Fruit Crush Frenzy .
Taylor True Make Up .
My Kingdom For The Princess .
99 Balls Aim carefully, shoot and remove the numbered obstacles from the field.
Penalty Superstar .
Fidget Spinner High Score .