Spoilers are coming…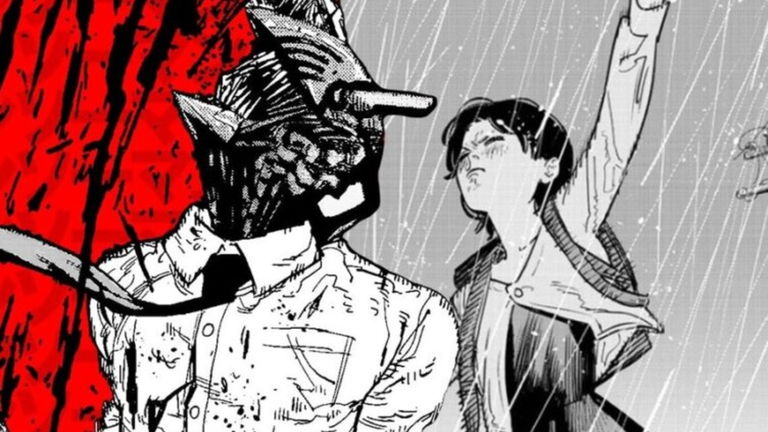 06/08/2022 01:00
In the recent chapters of Chainsaw Man we have gotten to know Asa Mitaka more closely, a girl who has been possessed by the Demon of War. Before continuing, we want to tell you that this article will contain spoilers.if you go a few chapters behind with the manga, we recommend you read it online through the service of MangaPlus by Shueisha. Well, there will be some important news of the new antagonists of this work.
The first few chapters of Chainsaw Man have been introducing fans to the Demon of War, a tricky new being who saved Asa from death and is now fully bonded with her while half of his brain has been kept alive. This has established a very different connection between the human and demon host than what fans got to see with the first part of the series, and the newest chapter in the series has added an important new detail to things, as now him War Demon has a new name for Asa and other people to call him, "Yoru".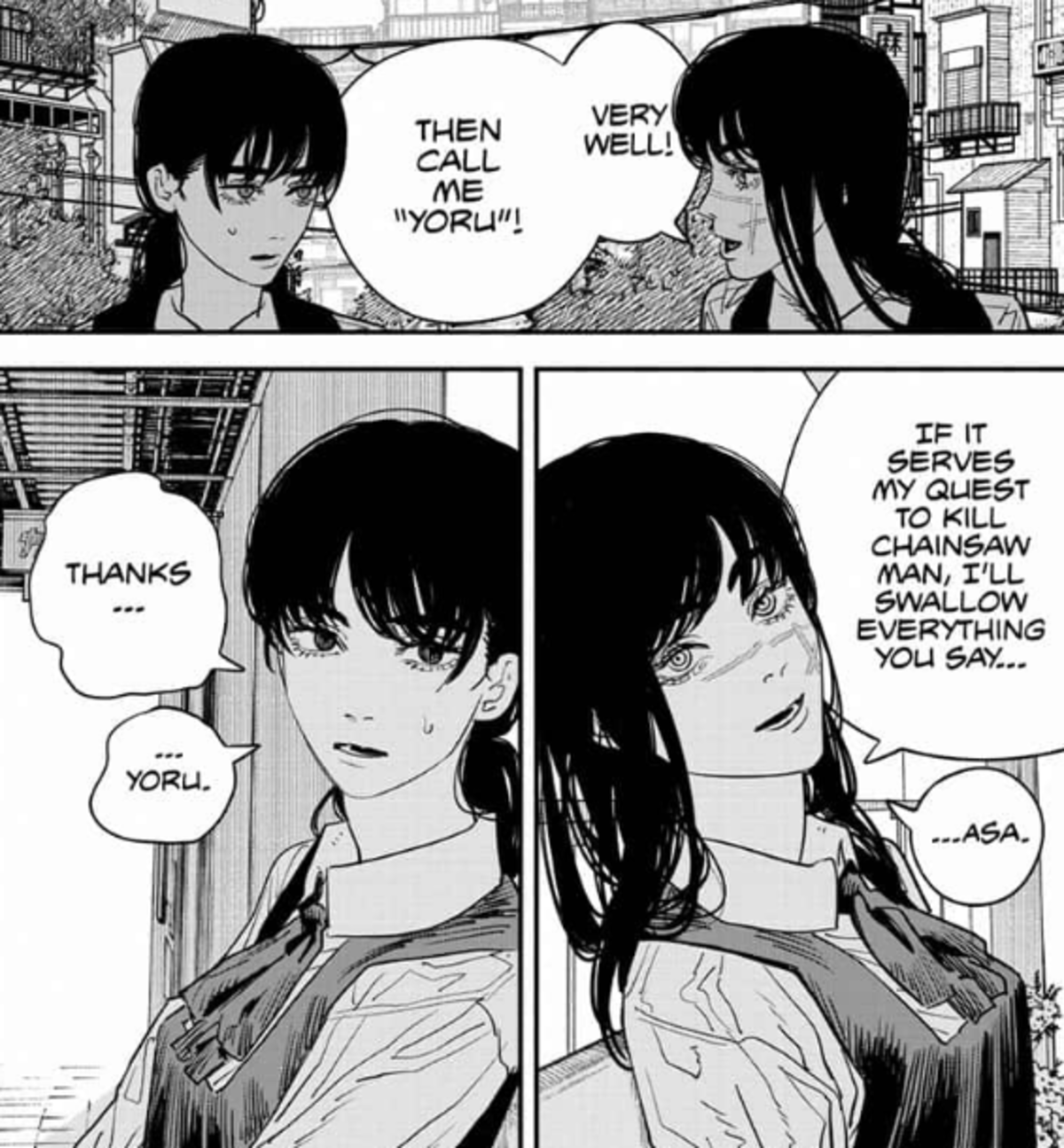 The Demon of War asks Asa to say "Yoru" to him in Chainsaw man chapter 101, so they can work together.
Chainsaw Man chapter 101 sees Asa trying to get used to the fact that he now has a close friend, Yuko, and the two grow closer over their shared past trauma. It is here that the demon of War tries to get Asa to kill and turn her friend into a powerful weapon., but Asa refuses. But, the demon does not give up and at that moment, Asa tells him to refer to her by her name, and states that referring to her demon simply as "Demon of War" is something that Asa does not do either. Knowing that they have to work together for a little while longer, this powerful being decides to give a little.
Then calling herself "Yoru", Asa now has a way of referring to the Demon of War, while the two need to work together to eventually fight Chainsaw Man one day. The two are now a bit closer through this new understanding, and it's definitely planting seeds for what's to come later. With the Demon of War clearly pulling the strings for the duo, it remains to be seen whether or not Yoru's new name plays into more of what's to come in the future.
Chainsaw Man is speeding through Part 2 with each new chapter in the series, and the newest chapter has introduced a new identity for the Demon of War. While the first part focused on how Denji adjusted to his new life as Chainsaw Man, Part 2 of the series got off to a completely different start. Instead of following Denji more, the series has introduced a whole new set of main characters, as the new heroine, Asa Mitaka, has her own unique test. Although, like Denji, she has been taken over by a demon, it is a much more complicated situation.
The path of the Demon of War in Chainsaw Man
The Demon of War (戦争の悪魔 Sensō no akuma) is a demon that represents the fear of war and is part of the Four Horsemen. She is the main antagonist of the School Saga.. The Demon of War took over Mitaka's body, quickly defeating the Demon of Justice and going on to find the Chainsaw Demon, Chainsaw Man.
In his first appearance, we see how he meets a boy at school and takes control of Asa's power. The Demon finds out that the Chainsaw Man could be in the Demon Hunters club, satisfied with her answer he asks the boy if he wants to go out with her, but he rejects her and leaves. The demon of War has declared his intention to build an army large enough to fight Chainsaw Man., and that's something we'll continue to see unfold throughout the series. It is a very different type of core demon than Denji, as Asa and her demon actively talk and get to know each other.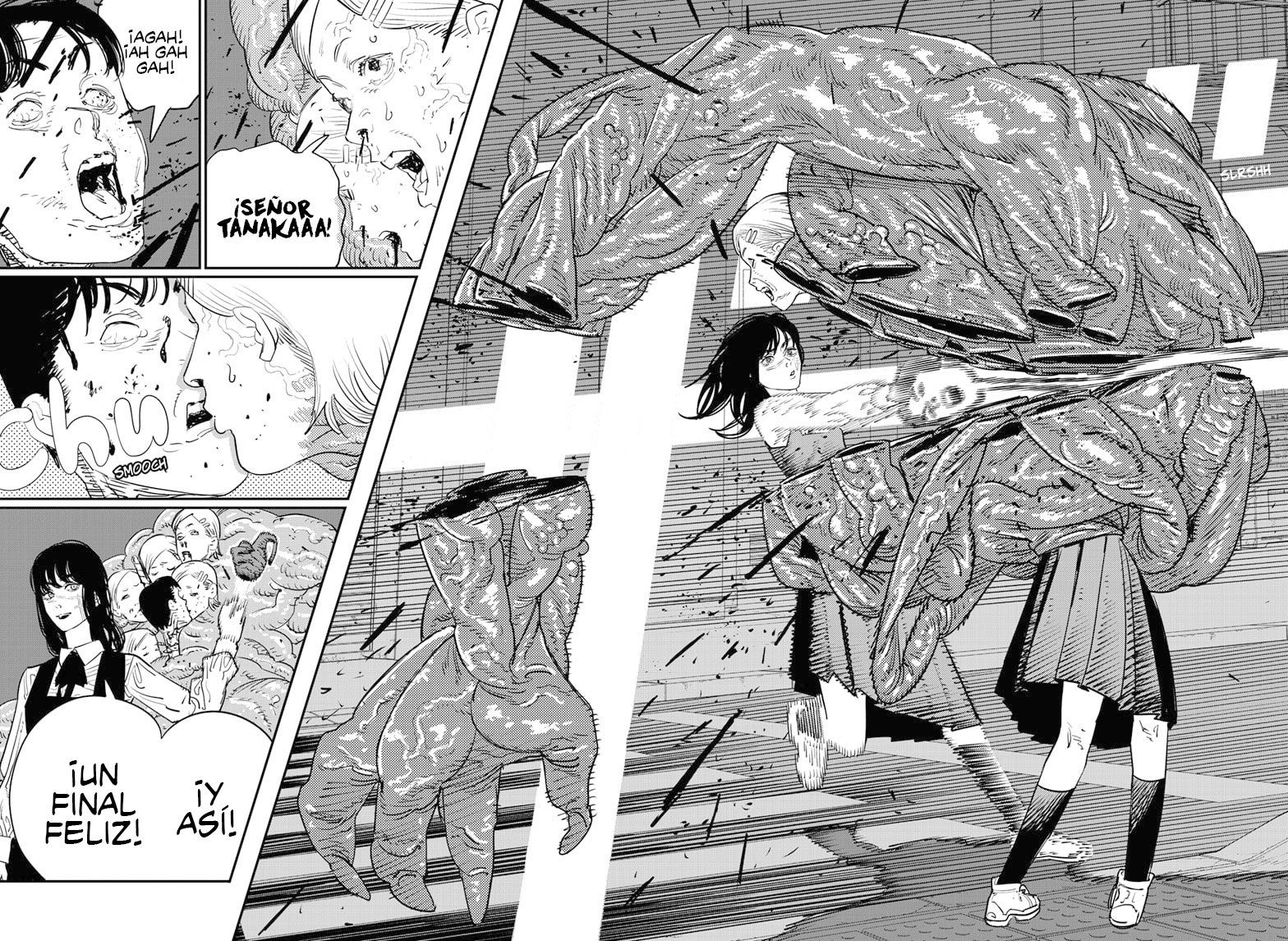 The inclusion of Denji's new antagonist in the second part of Chainsaw Man has been celebrated by his fans for the impression he left thanks to his power and momentum.
Chainsaw Man reveals the new name of the Demon of War
In the recent chapters of Chainsaw Man we have gotten to know Asa Mitaka more closely, a girl who has been possessed by the Demon of War. Before continuing, we
juegosok
en
https://fromthesource.link/wp-content/uploads/2022/07/chainsaw-man-98-manga.jpg
2022-08-06
Original content at https://fromthesource.link/2022/08/05/chainsaw-man-reveals-the-new-name-of-the-demon-of-war/
All rights are reserved for the original content (link in the upper line) author's
Acording with the Digital Millennium Copyright Act ("DMCA"), Pub. L. 105-304 If you believe that your copyrighted work is being infringed, notify our team at the email bitelchux@yahoo.es