Demi True Make Up
01/14/2017
Be a make-up artist and create a new look for Demi with this game of the True Make Up Series. On hand for this are, besides different make-up items, also hairstyles, clothes and accessory.
Category:girls,make-up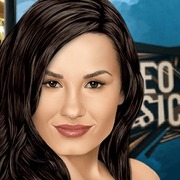 Fishing Frenzy .
Clockwork Beetles .
Kids Color Book 2 .
Farm Invaders .
Pizza Margherita - Cooking with Emma Help Emma from the cooking game series Cooking with Emma to prepare the vegan pizza.
Ultimate Sudoku .
Klondike Solitaire Play this addicting classic version of the popular casual game where you have to sort all cards on the field.
Goalkeeper Challenge .
Jigsaw Puzzle Classic .
Flow Mania Connect pairs of dots to create a flow between them.
Orange Ranch Orange Ranch is the great sequel of the classic Bubble Shooter Orange Bubbles.
Manga Lily .
Euro Soccer Sprint .
Tris Fashionista Dolly .
StreetRace Fury In StreetRace Fury you will get it all! Win the cups and prize money and buy new, expensive racing cars to have an even better chance at beating your opponents.
FreakingMath Check the solution of the mathematical problem as quick as you can.
My Puppy Make your own, cute puppy by matching different features such as color and pattern of fur and shape and size of nose and ears.
Groovy Ski Ski down the course in high speed in our new game Groovy Ski! Help the brave skier through a difficult track and avoid obstacles such as trees and snow monsters to unlock cool accessories.
Cartoon Flight Fly the little cartoon plane as far as you can and in this adventurous distance game, but be careful: enemies and obstacles will get in your way.
Gym Mania .