It seems that when this debate came to Spanish twitter, everything exploded.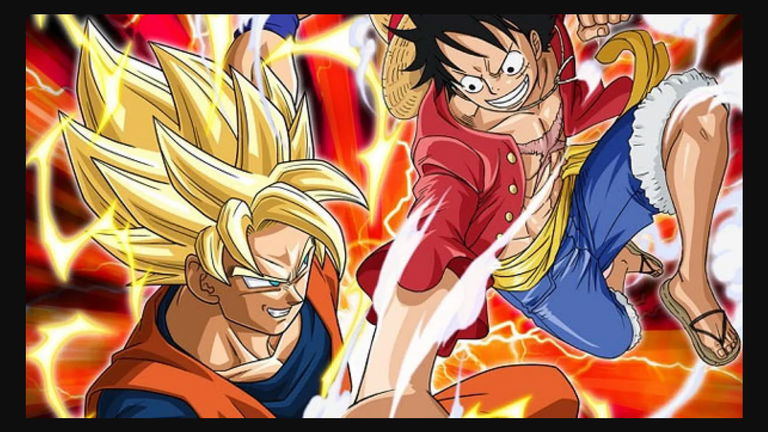 07/13/2022 01:00
We know that Dragon Ball is one of the biggest franchises in anime, but it's far from the only icon in the air these days. As the anime industry has grown, more recognizable titans have emerged within pop culture. One Piece remains one of the strongest titles in the industry, as Eiichiro Oda brought Luffy to television decades ago, which has started the debate again about which is better.
For the most part, the shows live their best lives away from each other, but fan feuds have put Luffy and Goku on crash courses before. And now, a controversial Kamehameha call has pitted the pair against each other once again. It all started with a tweet from the English-speaking side of the social networks:
No way you actually believe this

— ALK (@TAlxhemist) July 9, 2022
And what could that be? Well, the problem comes down to his signature moves. A fan went viral after suggesting that Luffy's new Red Roc could now be more iconic than Goku and his Kamehameha… and that claim angered Dragon Ball fans, who didn't hesitate to mock One Piece fans. who pointed out that this idea was too far from reality.
Tweets like this is why people make fun of one piece fans. https://t.co/MJICv7dGXe
— Mightykeef (@MightyKeef) July 10, 2022
You can find just a slew of reactions to the plot below if you're curious. While Luffy's Red Roc certainly impressed Kaido and Big Mom in Wano, the technique doesn't have the history of Goku's Kamehameha, there's undeniably a lot of years behind it to validate its recognition. In the years since his debut, Goku has become synonymous with animeand even novice fans of the industry know what the attack does.
I really like One Piece I'm a big fan of the series. But to say that it is more iconic than the Kame hame ha. It's already being a fanboy. Literally the hamehame has even my grandfather knows it. There are levels and dragon ball is at a very high level that many animes would dream of having https://t.co/LJQf7EEus5
—
Brayan/L. Rzerkcrow (@Wolfestei2000) July 10, 2022
The same cannot be said for Red Roc, as One Piece is still a smaller series globally than Dragon Ball. But when it comes to the fans, well some Luffy fans aren't ready to really watch this debate. And, it is that, in fact, it grew when it came to Twitter in Spanish. A large part of the audience will remember that, both in Mexico, as well as in Spain and Latin America, it was common to see Goku's adventures on local public television.
The success of Dragon Ball in Spanish, from Mexico and Latin America to Spain
When we compare the number of years that Dragon Ball has been on the market, it is easy to assume that it has had a deeper impact on popular culture. One of the tweets from Mexico and Latin America that contributed the most to this talk served to portray a historic event within the Spanish-language fandom of this franchise, the broadcast of the fight between Goku and Jiren in the Tournament of Power in public squares. From Mexico to Peru or Chile, this event that its fans had been waiting for a long time was broadcast on giant screens.
Although we could question whether or not this is a "legal" event (on social networks it has been pointed out that the necessary permissions were not requested from TOEI Animation), it is undeniable that the great influx that this event had faithfully represents the number of fans that Dragon Ball continues to have in the Spanish-speaking region:
one piece never had huge crowds of people (not just anime fans, different kinds of everyday people) streaming a one piece episode in public pic.twitter.com/iV7xuYbz49
— giselle enjoyer (@loonathepinoy) July 10, 2022
And, it is that in the end, it is remarkable that this could be one of the reasons why the Dragon Ball fandom has mocked that of One Piece. Both its impact outside of anime has been more important and their techniques or powers are, in such a way, more recognizable and iconic:
One Piece will be better than Dragon Ball and Dragon Ball will be overrated shit for those of us with bad taste, but I think the Kamehameha is one of the best known shonen techniques, if not the most xD https://t.co/OhGfVwLUYQ
— MarioEarth (@Earth100able) July 10, 2022
Dragon Ball or One Piece? Social networks debate which is better
It seems that when this debate came to Spanish twitter, everything exploded.The success of Dragon Ball in Spanish, from Mexico and Latin America to Spain
juegosok
en
https://fromthesource.link/wp-content/uploads/2022/07/dragon-ball-one-piece.png
2022-07-13
Original content at https://fromthesource.link/2022/07/12/dragon-ball-or-one-piece-social-networks-debate-which-is-better/
All rights are reserved for the original content (link in the upper line) author's
Acording with the Digital Millennium Copyright Act ("DMCA"), Pub. L. 105-304 If you believe that your copyrighted work is being infringed, notify our team at the email bitelchux@yahoo.es