Fitz Color
04/03/2017
Train your reactions by tapping the color you can read within seconds.
Category:puzzle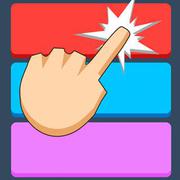 Sweet Hangman .
Butterfly Chocolate Cake - Cooking with Emma Lovely cook Emma shows you how to prepare a Butterfly Chocolate Cake.
Arcade Golf: NEON Become king of the swing in this minimalist golf game in retro design! Select your game mode and complete the course with the fewest number of strokes.
Shapes .
Formula Fever .
Sweets Monster Sweets Monster is a 2D endless parkour game. The aim is to avoid all obstacles and to gather candy as much as possible to get a high score.
Geo Quiz - Europe Test your knowledge of European cities and sights in this fun geography quiz! Select a category and try to find the correct location on the map.
Tomato Quiche Learn how to prepare Tomato Quiche with this game of the series Cooking with Emma. Follow Emma's instructions and read the whole recipe at the end.
Jewels Mania .
1 Sound 1 Word In this fun quiz game it's all about your ears! Look at the pixelated image and carefully listen to the sound.
Lana True Make Up .
Knightower Train your reflexes by helping the little knight to climb up an endless tower.
Kelly True Make Up Singer Kelly wants you as her personal stylist.
Sweet Candies .
Burger Maker .
Paper Plane Flight Paper Plane Flight is an addicting arcade game. Take control of a paper plane, collect coins, avoid obstacles and prove your skills. Beat the high score and become a high-flyer.
Fairy Cards In this magical brain game, your task is to find identical cards.
Potato Salad - Cooking with Emma In the cooking game series Cooking with Emma this time you can learn how to prepare a delicious vegan potato salad with sausages.
Reversi Select the right strategy in this classic Reversi board game version and try to end up with the most disks of your color to win the game.
Jewel Bubbles 3 Swap adjacent bubbles to make rows of at least 3 same-colored bubbles and remove them from the field. Bigger combinations will give you special bubbles and bonus points.