Flow Free
01/02/2017
Fill the whole board by matching equal colors. To succeed in every level you need to use your logical thinking.
Category:puzzle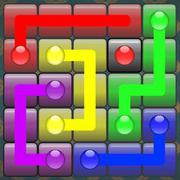 1212! Drag and drop pieces onto the grid to make vertical and horizontal lines. Full lines disappear from the field. Plan ahead: the more lines you clear at once, the more points you get.
Italian Tiramisu The lovely cook from the cooking game series Cooking with Emma this time shows you how to prepare the delicious dessert Tiramisu.
Beach Beauty Dress the Beach Beauty for a perfect summer day.
Solitaire Classic Objective of the game is to move all cards onto the four foundation piles, sorted by suit and rank in ascending order from Ace to King.
Power Mahjong: The Tower .
Back To Candyland - Episode 1 Find at least three of the same-colored candies and remove them from the field.
Hold My Hand, Friend You task in this cute puzzle game is to connect little monster buddies.
Sushi Ninja Dash Jump with the cute ninjas from wall to wall, collect sushi and avoid dangerous obstacles.
Mini Putt Gem Forest 18 more levels to master 18 more holes! How many strokes will you use in Mini Putt Gem Forest, the sequel to Mini Putt Gem Garden.
Stick Freak Become the ultimate Stick Freak! In this challenging arcade game you need to prove your skills. Help the tiny ninja to reach platform for platform and collect all shiny gems.
Heavenly Sweet Donuts .
Euro 2016: Goal Rush .
Backgammon Classic .
Jelly Bomb Jellys will explode into little jelly drops which cause chain reactions when hitting other Jellys.
Get The Weight Guess the weight of the object shown and add the respective counterweight to the scale.
Emily's New Beginning Restaurant owner Emily is facing the challenge to balance work and family life.
Baked Apples - Cooking with Emma .
Garden Princess Create a new look for the Garden Princess while she is sitting on her swing in this dreamy dress up game.
Domino Shades .
Hop Don't Stop Hop don't stop is an addicting skill game full of diamonds, power ups, obstacles, abysses and a cute little bunny.