Fluffy Egg
11/26/2016
Choose the pictures you like best and find out what kind of egg you are in this weirdly fun personality quiz!
Category:girls,quiz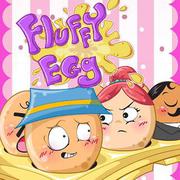 Wild West Solitaire The wild west and card games go together like peanut butter and jelly. Pretend you're in a saloon, sort the cards and clear the field.
Beauty Cat Salon .
K.U.L.I. .
Euro Keeper 2016 .
Ice-Cream, Please! Combine flavors, toppings and fruits, create the perfect ice-cream cone and please your customer.
Kiba & Kumba Jigsaw Puzzle Go on a puzzle adventure with Kiba & Kumba! 40 beautiful jigsaw puzzle levels are waiting for you! Simply drag and drop the pieces on screen and finish the picture.
Tri Peaks Solitaire Classic Objective of this popular Solitaire game version is to clear the table of all 3 peaks made of cards.
Speed Maniac Unleash your inner speed freak in this cool drag racing game.
Zombies Eat My Stocking .
Koutack Collect all stars while piling up the tiles in this colorful puzzle game.
Burnin Rubber Choose your car, choose your weapon and head out to rule the streets. Steer by tapping left or right and burn some rubber.
Keno .
Fancy Constructor Your task in this colorful puzzle game is to fill out all white shapes with the blocks available.
Creamy Ice Build your own ice cream empire in this cool skill game! Serve customers by tapping the ingredients in the correct order and upgrade your business.
Tabby Island In this adorable match3 game your task is to combine as many cute little kittens as possible.
Orange Bubbles Shoot the bubbles and combine at least 3 of the same color to remove them from the field. Drop the oranges to complete a level.
Jennifer True Make Up Give actress Jennifer a make-over with this game of the True Make Up Series.
American Football Kicks .
Slacking Cafeteria .
French Apple Pie - Cooking with Emma Help Emma to prepare the traditional French Applepie in this new game of the series Cooking with Emma. Follow her instructions and read the whole recipe at the end.