Free Games for Mac dangerous
The Little Giant Help the Little Giant in this challening platformer, avoid dangerous obstacles and jump through 60 levels!Category:skillPLAY NOW
The Lost Planet Tower Defense Once a dob5 spacecraft was committed to undertake a task to an alien planet. But on the way, the spacecraft got problems, it had to do the crash landing on a noname planet. That was a lost world and various monsters were waiting for the spaceman. It's too dangerous, he must collected all the debris pieces and defense all the monsters attack. Can he escape the horror of lost planet, escape it? Who knows...Notice: try to upgrade your need...
Road of Fury 2 The road is even more dangerous this time around. After splitting ways with his running team Cole had found himself back on the road of fury running from the nuclear blizzard. This time he cannot enlist help on his own, he has to earn it. As he breaks through enemy barriers he will meet other road warrior like him that will help him escape the road of fury. There are lots of new enemies and upgrades to take into to battle.Category:shooting
Wild West Run Please see other games on my profile.Long time ago, back in 1870 wild west was full of outlaws. The local Sheriff needs your help to catch a bank robber, but as you will see this is not going to be an easy job. Many dangerous challenges needs to be completed while chasing...
Offroad Truckers The trucks are pulled out of the garage for a national race called off road truckers. This race takes place in 2040. The trucks are old but have been modified to carry bombs and other dangerous weapons. Shoot your enemies down as you race for gold.Category:racing
Dangerous Racers Begin a race against dangerous opponents. You have at your disposal a powerful car, if you think you got what it takes to drive this car then you've come to the right place. Grab the wheel and show...
Dangerous Drifting Jump in the field of action with our new racing game Dangerous Drifting. You can choose from three supercars, two of them that you have to unlock first throughout the ten levels available. The levels are filled with...
Color Stars Meet the universe on this colorful puzzle game.Collect all balls in orbit to discover new Planets and Stars, the space could be dangerous so be careful with traps in your wayCategory:puzzle
3 Pandas HTML5 Help these 3 Pandas make their way through the dangerous jungle and past aborginal people to get them back home.Category:puzzle
Wanderers.io Command your tribe in a small dangerous sandbox. Gather resources to recruit new members and equip them properly. Invent new technologies that will help you survive. Battle barbarians and other tribes.Category:multiplayer
Moana Disney Princess Adventure Hey Girls, in this new game you are about to help one of the bravest Disney princesses, Moana to start a dangerous journey. If you don't know who Moana is yet, you must learn that she is a spirited teenager who decides to sail the Pacific Ocean to complete her ancestor's quest. ...
Adventures of Flig "Adventures of Flig" is a fascinating story with an interesting plot which combines three games in one - a runner, air hockey, and labyrinth.Explore beautiful and mysterious worlds and fight the unique enemies to help save Flig's beloved from the clutches of the vile Spider!And don't forget the tiny spider Spidey! Guide him through the dangerous mazes and he'll play a significant role in the adventure!Category:adventure
Steam King This King is in for the battle of his life. He is sitting down for dinner when his knights are defeated in his castle by the evil Monster of the lands. The monster kicks the king and the Excalibur sword out of the kingdom and steals the queen. The king breaks the Excalibur sword trying to pull it from a...
Snail Bob 2 html5 A dangerous forest stands behind Snail Bob and his grandpa's birthday party! Can he make it through?Category:action
NY Rex Attention fellow gamers. The long awaited sequel to LA Rex is finally here! NY Rex welcomes back the most dangerous...
Moonhex The Powers of Echelon are given to each village champion. Each champion must travel across the dangerous eastern road to face...
Jelly Haven What's better to do on a foreign planet than collecting gems? That's right. Avoiding meteors! That's the story of this silly jellyfish.Jelly Haven is an action-arcade HTML5 game in which you control a jellyfish going through...
Deep Forest 3D Race If you are looking for the ultimate driving challenge then get in your jeep and drive through the dark and dangerous forest in extreme weather conditions to prove that you are anything but an amateur. Complete the missions in every one of...
WormZilla You are WormZilla !! A dangerous worm that has to destroy all humans. The army will try to attack and destroy you but you have to avoid the bullets and eat humans to grow. Updates that will give you speed or improve your shields so you get less damage are available.Category:1-player
Silly Ways To Die: Party These little monsters are ready to rock! Unfortunately, the stage they're dancing on is incredibly dangerous. Can you help them keep the beat...
Silly ways to die: Christmas Party It's the season to be silly! These crazy creatures found new ways to be dangerously jolly! Can you protect them to keep the festive spirit of the Christmas holidays alive?Category:puzzlePLAY NOW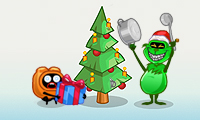 Silly Ways to Die 3 These crazy creatures have decided to work at a dangerous construction site. Can you help them stay safe and avoid getting killed by everything from drills to falling bricks in this action game?Category:adventuresPLAY NOW
Froggee Frogee is here! Tap and jump to reach as high as possible. Collect stars and eat flies for points. Avoid dangerous animals and plants. Jump into a bubble to fly.Category:arcadePLAY NOW
FlakBoy Escape FlakBoy's trapped in a dangerous factory. Can you help him survive a challenge worthy of Crossy Road?Category:shoot-em-upPLAY NOW
Candy Thief This thief has a serious sweet tooth, and it's getting him into all sorts of trouble! Help him navigate the dangerous terrain and get his hands on...