Free Games for Mac drag
My Fairytale Dragon Help the fairy take care of a majestic dragon in this magical dress up and makeover game!Category:girlsPLAY NOW
Fruit Shoot Boom Touch and drag to shoot.Category:shooting
Paper Blocks Hexa In this popular puzzle game you need to fill Hexa fields with multi-colored blocks. Drag the blocks, get the stars, open new packs.Category:puzzle
Math Tracks Drag the square towards the circles such that the number of the square became zero.Category:puzzle
Garden Collapse The aim is to destroy the flowers as soon as possible before the timer runs out. Same colored flowers explodes when they comes near to each other. You can drag the flowers to possible vacant locations. In higher levels, there are elevator and Laser beams to help You.Category:puzzle
Doodle God: Fantasy World of Magic Dragons, Warlocks and Wizards...enter an amazing world of Fantasy and Magic from the people that brought you Doodle God. Mix and match hundreds of elements from the fantasy world ranging from Dragons, to dark magic to evil Sorcerers.Be a Powerful Wizard!Category:puzzle
Counting Squirrel Drag the squirrel towards the numbers that sums the numbers and equals to the number on top of the hole.Category:puzzle
Super Ball DZ Enter the world of dragon ball in this platform game revive the epic battles of the saga of sayajins you can pass the 24 levels full of actionCategory:platform
Gummy Blocks Gummy Blocks is a HTML5 Puzzle Game. Drag the forms in the free cells and clear rows and columns in the grid!Category:match-3
Frozen Bunk Bed These sweet Frozen Sisters, Elsa and Anna, came up with this crazy idea of having a bunk bed in Elsa's bedroom. Yes, they are all grown up but it seems these girls have so much to talk about Kristoff, Jack Frost or the ...
Elsa Gives Birth This is probably the most important day in Queen Elsa's life: her pregnancy reached the term and right now she's getting ready...
Save Baby Dragon2 Save Baby Dragon-2 is the new point and click escape game from Ajaz Games. Mother dragon has to rescue her baby dragon which was locked in a cage. You must go into cave in search of key by solving puzzle and finding clues. Enjoy free new online escape game.Wish you good luck. Have fun playing ajazgamesCategory:escape
Loving Toads Make the toad jump and wait for it to fall on top of the female toad. Fun game retro style, where a female toad is in the field and wants to play. When his gallant, the toad, arrives, she begins to dance. You have to make the toad jump, and if it falls on top of the female toadshe wins a heart. If you get 50 hearts, you'll unlock a new player:An Alien toad. If you get 100 hearts you will unlock:A dragon toad. If you get 200 hearts, you will unlock:A naked toad. In total...
Volcano Escapes Help the stone age hero to cross the lava river. Make the path by dragging the stone blocks. Collect the objects in the block...
Stickman Archer 2 Destroy the Enemies with your bow before they kill You.Destroy enemies and stay alive!!Drag and drop your finger for attack. Earn starts making...
Nectar Harvest Drag the bee and release to clear all the flowers in the flower field. Be careful of enemies lurking around.Category:action
Assemble Mecha Build awesome giant mechas with simple drag and drop controls. Try to get higher ratings by building your robots faster and more accurately.Category:action
Drag the City Are you looking for adrenaline? Drag the city will drag you into a street drag racing competition with seven other competitors that one way or another got into this race. Each one has a different story, each one is different but they are all worthy competitors. Make your own...
2 Avoiders 2 Avoiders is a classic arcade avoider game. Try to get higher score by avoiding falling black blocks by dragging the red block.Category:1-player
TenTrix TenTrix is easy to play and a pleasurable game for all ages! Simply drag the blocks and fill up all colored grids. Once you start, you will definitely be hooked: this 3D-style game awaits you!Category:clasicsPLAY NOW
Splish Drago Pong Splish Drago Pong game is about surviving between two barriers and dodge the enemies, by controlling Drago and other creatures swimming between the two...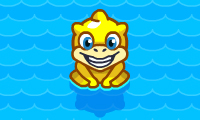 Snowman Creator Snowman Creatorby Theo ClarkeFirstly, select the device on which you're playing the game: computer or tablet.Use the red arrows on the left to customise your snowman...
SantaTranslated Point translations themed for holidays.Santa's location given as (x,y) position. His next stop is provided as a translation of the previous point. Drag Santa to that location.Category:otherPLAY NOW
Saga of Kraigen: Ambush at the Dragon Pass This is one rough Tournament, are you the mighty warrior that will win the ultimate prize? Let the battle begin!Category:warPLAY NOW...
Orange Slice Made for touch screen but on PC just use the mouse to click and drag.Release to shoot.Aim again during flight for slow-mo aiming.Category:actionPLAY NOW