Free Games for Mac fruits
Sahara : Ajar's First Adventure Sahara is a puzzle game based on Pac-Man and snake mechanics. Embody Ajar the snake and free your friend Pitt from the enemy! Collect fruits by using the perfect way and avoid the view of camels and the population to reach your objective. Anticipate the enemies, solve the puzzles to...
Super Pineapple Pen The fruits are crazy with the new song, and you need to kill them. Stick a pen into a fruit, Tap to throw the pen and try to hit an pineapple or an apple. Hit the perfect center for two times in a row and you will get a Bonus Pen pineapple Apple pen Have Fun!Category:funny
Super Pineapple Pen 2 The fruits are back more crazy than ever, its time to pin again. Stick a pen into a fruit, Tap to throw the pen and try to hit an pineapple or an apple. Hit the fruits but dont hit the pens.Collect full coins and buy new objects to throw, New levels and new fun in Super...
Princesses Day Out These princesses haven't seen each other in a while and they have some catching up to do! Join them right away for a day out. Go with them on a picnic and make sure the girls look classy as always. They are going drink...
Zyppy Pixie Zippy Pixie is a HTML5 Puzzle Game. Enjoy this premium game with 55 levels of increasing difficulty. Make a combo of 3 or more identical fruits and clear the field before they reach the bottom line.Category:bubble-shooter
Jumpanda Panda does really miss his girlfriend, but his rocket ran out of fuel so he's not able to get to her.Collect fruits to fill the rocket so Panda could fly to reunite with his beloved girlfriend."JumPanda" is playable on desktop`s and mobiles.Category:1-player
Aki´s Odyssey: Lvl1 The Mansion Adventure game about a little creature called Aki. Their mission is return to home and recover the stolen fruits. In this adventure you learn new skills, facing dangers and meeting some friends. Download the complete ...
Juicy Dash Prove your skills in this addictive match3 game. Match as many fruits as possible and beat the high score!Category:match-3PLAY NOW
Fruit Pulp Combine at least 4 fruits of the same type to remove them from the field in this fun matching game. Can you beat all levels with 3 stars?Category:skill,match-3PLAY NOW
Fruita Crush A fruitful match3 game awaits you in Fruita Crush. Connect 3 fruits or more, collect as many points as possible ...
Fruita Swipe 2 The sequel to the Match3 hit Fruita Swipe is here and 100 brand new levels are waiting for you! Connect as many fruits as possible and complete all challenges!Category:match-3PLAY NOW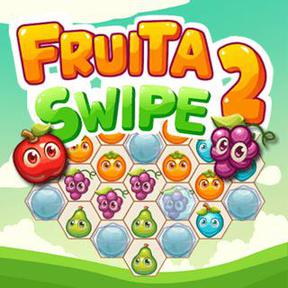 Fruit Break It's Fruit Break time! Prove your skills in 60 seconds: cut as many fruits as possible and avoid all bombs. Will you beat the high score?Category:arcadePLAY NOW
Ice-Cream, Please! Combine flavors, toppings and fruits, create the perfect ice-cream cone and please your customer. The faster you are the higher will be your score!Category:arcadePLAY NOW
Orange Bubbles Shoot the bubbles and combine at least 3 of the same color to remove them from the field. Drop the oranges to complete a level. How many fruits can you harvest?Category:bubble-shooterPLAY NOW
Katana Fruits Slice the fruits, avoid the bombs and get the high score!Category:arcadePLAY NOW
Fruita Swipe Connect the fruits by drawing a line between them and fulfill the tasks set in every level!Category:match-3PLAY NOW