Exploration Lite: Mining
12/12/2015
Destroy the blocks and work your way to treasure in this exploration game inspired by the world of Minecraft.
Category:action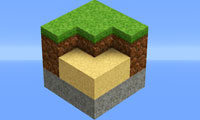 Exit Isol8 You've just found yourself on a quiet space station….a space station that's a little too quiet.
Evil Wyrm .
Euro Football Pong 2016 Get ready to take on the big leagues of one the world's greatest sports games.
Escape Use the arrow keys to move.In smartphones swipe in any direction.
Epic Snowman Building a huge snowman isn't easy but it's tons of fun.
Epic Platformer .
Endless Lake .
Egyptian Stones .
Eggs and Cars .
EducaT Aprende Sistema Solar Web .
Easy Joe World This cute little rabbit, Easy Joe, wants to get back to his friends, but he has to get past traps and puzzles first.
EarthSausage Click anywhere to make the worm go up, don't click and it will go down.
Earth Protector Steer with Drag (Mouse or Touch) or use arrow keys.
Dwarf Runner This magical dwarf is on a mad dash for lots of precious jewels.
Dungeon Fighter-8 Bit Fighting Swipe right or left with mouse arrow on screen to go right or left.Swipe screen up to jump.Swipe screen down to drop down floors.Tap on screen to kick.
Duelers Play Duelers, save the princess from evil who want conquer the world. Prepare your sword and defeat all the enemies.
Dropme Help cute creatures to climb into the tube! Amazing graphics, nice sound, lovable characters and challenges.
Drop Wizard It's magic versus bunnies in this enchanted world.
Dronebot .
Drone Delivery This flying drone has to make a lot of deliveries this afternoon.