07/14/2017
Foot Chinko will take you on a football trip around the world. Win all the important cups in this football tournament game.
Category:sports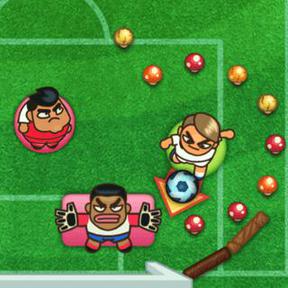 Recent
Truck Trials .
Basketball .
Elsa Hex Puzzle .
Pilot Heroes .
Nina Wedding .
Ale or Gold Deliver the gold to the gnome, but avoid meeting him.
Glow Lines Fill the whole board by matching equal colors. To succeed in every level you need to use your logical thinking.
Fast Food Takeaway In this fun management and skill game, you play as the owner of a small food cart.
Halloween Monster Quiz Zombie, mummy or vampire - which creepy Halloween creature fits your character best? Take this fun personality quiz and answer all the questions to learn more about yourself.
My Wedding Create the perfect bride look for a dream wedding by matching the dress with beautiful accessory and finish it with the hairstyle.
Sudoku Classic Help your brain stay healthy with Sudoku! In this fun logic puzzle your task is to fill the 9x9 grid with numbers.
Jelly Collapse A new Match3 puzzle is waiting for you to use your logical skills. Join at least 3 jellies and gather bonus points for bigger combinations.
Fashion Yo!! Become a trendy fashion designer and create your own collection! Style your mannequins and present your awesome outfits in your show room.
Kiba & Kumba Puzzle This is our newest Kiba&Kumba game! 30 challenging puzzle levels are waiting for you.
Elsa Bubble Shooter .
Nut Rush Help the cute squirrel in Nut Rush to jump from branch to branch, without falling down. Mighty levels will help you improve your skills.
Power Mahjong: The Journey Accompany the giant panda on his journey through 25 fun mahjong levels.
1010 Animals Your goal in this addictive puzzle game is to score as many points as possible. Drop cute animal blocks on the game field and try to create full vertical or horizontal lines.
Gold Miner Tom .
Mini Race Rush .