Kiba & Kumba: Shadow Run
10/31/2016
In this fun jump 'n' run game you have to help the cute monkeys Kiba & Kumba to flee from Dr.Slipp van Ice into safety.
Category:jump-and-run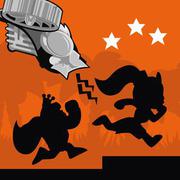 0h n0 .
Road Safety - Blood Free .
Western Solitaire Objective of the game is to move all cards onto the four foundation piles, sorted by suit and rank in ascending order from Ace to King.
Unfreeze Penguins Tap on at least 3 penguins of the same color to free them from the ice and remove them from the game field. Try to score as many points as possible and complete the goal in each level to progress.
Outcome Enter a dangerous post-apocalyptic world in this challenging platform runner. Make your way through the wasteland to reach survial camps.
Medieval Life Once upon a time...In this cute puzzle game your task is to find the true ending for the story.
Katana Fruits .
Hex Puzzle .
2048 .
Easter Card Match Train your brain with this cute Easter-themed puzzle! Find identical cards and clear the field before the time runs out.
Princess Goldblade And The Dangerous Water Princess Goldblade needs to watch out for the dangers that are awaiting her in the waters.
Fruita Swipe .
Multisquare Multisquare is an addicting puzzle game! Combine at least 3 blocks of the same color to remove them from the game. The more same colored blocks you remove at once, the more points you earn.
Speed Club Nitro Collect as many power-ups as possible while racing for the first prize to better your position. Use your prize money to buy upgrades for your car.
Bubble Hamsters .
Christmas Costume This adorable dress up game will get you in the mood for Christmas! Combine tops, bottoms, dresses, shoes, accessories and many more items to create your favorite outfit.
Cooking Super Girls: Cupcakes First dress the Cooking Super Girl and then help her to bake sweet cupcakes. Use her superpower to make the cakes extra delicious.
Protect The Planet Protect The Planet is a fast paced action strategy game.
Lily Real Make up .
Slacking School .