Fruita Crush
11/03/2017
A fruitful match3 game awaits you in Fruita Crush. Connect 3 fruits or more, collect as many points as possible and mast over 100 challenging levels.
Category:match-3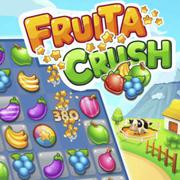 Cannons and Soldiers Shoot your enemies by determining the strength and angle of your cannon. The less shots you need, the better.
The Green Mission In the platform puzzle The Green Mission your task is to help the green blob Buddy on his journey through an ancient cave.
Monster Pet .
Bravebull Pirates In Bravebull Pirates your aim is to free Bull's sweetheart from the evil pirates.
Slacking Gym .
Fruita Swipe 2 .
Magic Mahjong Guide the wizard through 50 difficult Mahjong levels, while acting as his magic helper. To finish the game with 3 stars in each level, you need to combine power-ups with your skills.
Bots Boom Bang .
Who Am I - True Age .
MahJongg Fortuna Originating in China, the classic board game Mahjong is now themed as zodiac signs, so each level creates a new horoscope. Your goal is to match identical stones and remove pairs from the field.
Sheep's Adventure .
Cutie's Kitty Rescue Help Cutie run a cat rescue shelter in this adorable management game! Treat cats, feed them and play with them before releasing them into a new home.
Snow Smasher .
Gin Rummy Classic .
Tina Back To School .
Elsa Bubble Shooter .
Rival Rush .
Jigsaw Puzzle XMas .
Civilizations Wars Master Edition Civilizations Wars Master Edition is a fast thinking strategy game and combines four different games in one.
Magic Jewels .