Matching Card Heroes
11/20/2017
Train your memory and find identical pairs to battle various enemies in this thrilling card game!
Category:skill,cards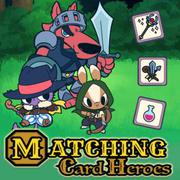 Stones of the Pharaoh Match blocks of the same color and clear the field. With every klicked block you will lose a life, so prepare a good strategy.
Classic Bowling .
Halloween Monster Quiz Zombie, mummy or vampire - which creepy Halloween creature fits your character best? Take this fun personality quiz and answer all the questions to learn more about yourself.
Color Shape .
Soccer Heads .
Happy Dog .
Carol's Temp Job .
Save the Date .
Birdy Rush .
Kids Block Puzzle .
Boat Battles .
Selena True Make Up Selena needs a new style and you can dress her, do her hair and make-up complete the new look with the perfect accessory in this game of the True Make Up Series.
Save Butterflies Your task in this colorful bubble shooter is to match 3 or more bubbles of the same color and set the butterflies free.
Indi Cannon - Players Pack .
Circle Rush Make sure that both ball and obstacle have the same color to guide the ball through the patterns.
Christina True Make Up .
Nina Ballet Star .
Minimal Dots .
Eleven Eleven .
Racing Cars .