Mini Putt Holiday
11/05/2016
In this X-Mas sequel to the Mini Putt adventure 18 more levels with many tricky courses are waiting for you. Hit the ball into the holes using the fewest number of strokes and collect as many gems as possible. Can you beat all levels in two beautiful winter-themed worlds and achieve a high score?
Category:sports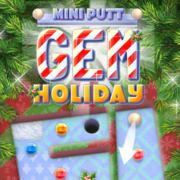 Bananamania .
Boss Level Shootout .
Connect me factory Move, turn and join the blocks until the stick together.
Colorpop .
Speed Billiards .
Vanessa True Make Up Vannesa needs your help with her styling. Create her look by chosing her outfit and hairstyle andt match the perfect make-up and accessory with it.
Euro Penalty 2016 Compete against Europe's soccer elite and win the trophy! Select your favorite team and show your skills as a striker and goalkeeper.
Kiba & Kumba: Tri Towers Solitaire Objective of the game is to clear all three peaks made of cards. Only cards that are lower or higher than the card at the bottom deck can be removed.
Cute Salon .
How To Feed Animals How to Feed Animals is our newest puzzle game. Play through 40 levels, combine the cute animals and feed them to pass each level.
Amanda True Make Up Be a trendsetter and pick the perfect styling for actress Amanda in this girl game of the True Make Up Series.
Finders Critters Help the sweet Critters to get from A to B! But your task is not easy. You have to connect at least two equal coloured blocks to clear a path.
4x Puzzle Train your brain with 4x Puzzle and try to earn as many points as possible! Add number blocks to the field which are multiples of 1, 2 or 4 and combine them into new sums.
Wifi in Love .
Purple Mole .
Skeet Challenge .
Rabbit Punch .
Mommy Washing Toys Christmas is just around the corner, but all the presents got dirty somehow. Be a true angel and help your mommy to sort, wash and dry the presents for your siblings.
Kiba & Kumba: Shadow Run In this fun jump 'n' run game you have to help the cute monkeys Kiba & Kumba to flee from Dr.Slipp van Ice into safety.
0h n0 .