Nina - Airlines
12/10/2017
Help air hostess Nina with her job in this cute makeover game!
Category:dress-up,girls,make-up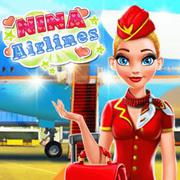 Onet Connect Christmas .
Dragon: Fire & Fury .
Solitaire Classic Christmas In this cute Solitaire Christmas version, your task is to move all cards onto the four foundation piles, sorted by suit and rank in ascending order from Ace to King.
Matching Card Heroes .
Stones of the Pharaoh Match blocks of the same color and clear the field. With every klicked block you will lose a life, so prepare a good strategy.
Classic Bowling .
Halloween Monster Quiz Zombie, mummy or vampire - which creepy Halloween creature fits your character best? Take this fun personality quiz and answer all the questions to learn more about yourself.
Color Shape .
Soccer Heads .
Happy Dog .
Carol's Temp Job .
Save the Date .
Birdy Rush .
Kids Block Puzzle .
Boat Battles .
Selena True Make Up Selena needs a new style and you can dress her, do her hair and make-up complete the new look with the perfect accessory in this game of the True Make Up Series.
Save Butterflies Your task in this colorful bubble shooter is to match 3 or more bubbles of the same color and set the butterflies free.
Indi Cannon - Players Pack .
Circle Rush Make sure that both ball and obstacle have the same color to guide the ball through the patterns.
Christina True Make Up .