Mad Truck Challenge
12/12/2015
Category:racing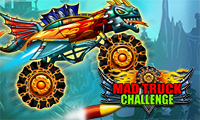 Lumber Runner Jack and his friends are trying to stay on this spinning log for as long as possible while they collect golden coins.
Lousy Bird Just click on your mouse to fly...
Lose the Heat: Retro The cops are hot on your tail. Ditch 'em on the double in this old-school racing game.
Longcat Journey Chase the fishy rewards through a cartoon world of platform obstacles, growing with every bite, in the cutest and weirdest cat game on the web.
Loch Ness Water Skiing Get ready for a retro ride on some pixelated water skis.
Little Lights .
Little Kids Business .
Little Alchemy Little Alchemy is the new alchemy game. Start with four basic items and use them to find dinosaurs, unicorns and spaceships! More than 550 elements available.
Light & Dark This is a mobile touch game. But will work with cursors on desktop too.
Let Me Rock It's time to rock but sometimes rockin' ain't so easy.
LE" BLOCK .
LavaNoid .
Last Deliver The only way that this guy is going to escape from these monsters is with your help.
KULI You just got off a remote mountain range after finishing a construction project when a zombie plague breaks.
KubeX Kubex is a brain train game where you have to identify the odd coloured square amongst others in a grid. You have a minute to get as many as you can, and it is easy to get stumped now and again.
Knight Treasure .
Kitty Cat Power This cool cat has super powers but he could still use a little help when it comes to fashion.
Kingdom Creator Design a gorgeous kingdom that looks like it came straight out of a fairy tale.
Kimono Cutie Dress Up .
Key & Shield 2 The Gorlik Island is still not safe! A curse is covering it with rocks while many of your friends are still locked in their cages.