Jelly Collapse
11/02/2017
A new match3 puzzle is waiting for you to use your logical skills. Join at least 3 jellies and gather bonus points for bigger combinations.
Category:match-3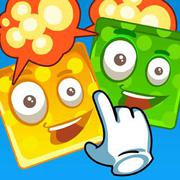 Jewel Duel Be a hero and fight against evil creatures! Swap tiles and create combinations of at least three identical stones to remove them from the field.
Moto Fury .
Candy Bubble .
Tower Rush .
Bubble Spirit Combine at least 3 same-colored bubbles to remove them from the field.
Tina Wedding .
Jump With Justin .
My Wedding Create the perfect bride look for a dream wedding by matching the dress with beautiful accessory and finish it with the hairstyle.
Nut Rush Help the cute squirrel in Nut Rush to jump from branch to branch, without falling down. Mighty levels will help you improve your skills.
Chainy Chisai Medieval .
The Princess And The Pea .
Super Loom: Dragonscale Get creative and weave one of the popular loom bands - this time with the dragonscale pattern! Find the perfect color combination and decorate the bracelet with cute charms.
Onet Connect Classic .
Nut Rush 3 - Snow Scramble In this wintery sequal of the popular jump 'n' run game Nut Rush you task is to help the little squirrel to gather the nuts and get safely to its nest.
Pirates Of Islets Jump with pirate Captain P' from islet to islet and loot coins, power-ups and treasure chests filled with gold.
Elsa Mandala .
Playful Kitty Your task in this cute physics puzzle is to get the ball of wool to the cat so it can play with it.
Fast Food Takeaway In this fun management and skill game, you play as the owner of a small food cart.
PIN Cracker In PIN Cracker you have to figure out the correct combination of numbers under time preasure. Prove your skills, make the right choices and beat the highest score.
Penalty Shootout: Multi League .