Slacking Gym
11/02/2017
Finish your slacking activities on time, but don't let the coach catch you!
Category:girls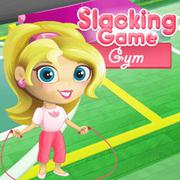 Fruita Swipe 2 .
Magic Mahjong Guide the wizard through 50 difficult Mahjong levels, while acting as his magic helper. To finish the game with 3 stars in each level, you need to combine power-ups with your skills.
Bots Boom Bang .
Who Am I - True Age .
MahJongg Fortuna Originating in China, the classic board game Mahjong is now themed as zodiac signs, so each level creates a new horoscope. Your goal is to match identical stones and remove pairs from the field.
Sheep's Adventure .
Cutie's Kitty Rescue Help Cutie run a cat rescue shelter in this adorable management game! Treat cats, feed them and play with them before releasing them into a new home.
Snow Smasher .
Gin Rummy Classic .
Tina Back To School .
Elsa Bubble Shooter .
Rival Rush .
Jigsaw Puzzle XMas .
Civilizations Wars Master Edition Civilizations Wars Master Edition is a fast thinking strategy game and combines four different games in one.
Magic Jewels .
Tina - Learn To Ballet .
Cowboys vs. Martians Aliens have come down on earth and want to take over.
Jelly Collapse A new Match3 puzzle is waiting for you to use your logical skills. Join at least 3 jellies and gather bonus points for bigger combinations.
Jewel Duel Be a hero and fight against evil creatures! Swap tiles and create combinations of at least three identical stones to remove them from the field.
Moto Fury .