Ancient Ore
12/12/2015
Step inside this treasure mine and find out how quickly you can match up all of these precious gems.
Category:action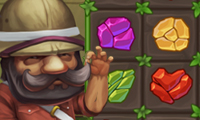 An Unnamed Cell Use mouse to move your red cell around.
Amigo Pancho 6 Amigo Pancho doesn't like helicopters—as far as he's concerned, balloons are the only way to fly.
Amazing Grabber With Amazing Grabber, get ready for the goodies bonanza! Tap the screen to help Haru, the mischievous pink monster, snatch as much precious stuff as possible.
Amazing Brick Tap to move the brick. Just like the original game.
Alienanza .
Algerian Solitaire Algerian Solitaire is the new solitaire game for everybody! Move all of the cards from the outer piles to the eight foundation piles in the center.
Airboss .
Again Super Ninja .
Adventures of Indiara The Adventures of Indiara are starting! Play with Indiara, a girl who loves to collect ancient artifacts.
Ace of the Pile Feeling lucky? Then try this online version of the classic card game Aces Up. Find out if you can gather all of the four aces that you'll need to win each round.
55Seconds .
50 Dead Nights .
4 Two Dots Connect as many of the same colored dots as possible by linking two or more dots together.
3 Slots arm bandit Simply click the button - Download the commented capx for an explanation of how it works.
3 2 1 Spell You are a wizard involved in fast-paced magic duels.
2D Coin Boy (Demo 1.1) .
2016 .
1941 Frozen Front Lead German forces on the rise towards the East or defend mother Russia on the Soviet side.
1001 Arabian Nights 7 .
1001 Arabian Nights 6 .