Stray Knight
12/04/2016
Your task in this cute puzzle game is to guide the knight safely to the castle. Collect the sword, shield and helmet, fight off dangerous beasts and beware of deadly traps on the way!
Category:puzzle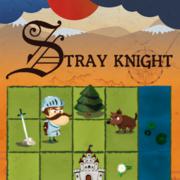 Prism .
Don't Cross the Line Master this riddle by uncrossing the lines and solving the interwoven pattern.
Flag Quiz .
What Famous Cat Are You Just answer the questions by chosing the image that best describes you and you will see, which famous cat resembles you the most.
Text Twist 2 Look at the jumbled letters and find all the word combinations. You need at least one six-letter word to move on to the next round.
Mandala Coloring Book .
Animalines .
Beach Sudoku Use your logic and solve the popular numbers puzzle Sudoku, by filling a 9x9 grid with numbers so that each row, column and section contain all of the digits between 1 and 9.
Soccer Dress Up .
Cat Around the World In this cute physics puzzle the cat is travelling again to taste the world's best salami and admire the beautiful landscape of the alpine lakes region.
Park Your Car Show your skills in this cool parking game! There's a free spot available, now it's up to you to navigate your car safely into it.
Super Loom: Starburst .
Babel .
Fit it quick .
Wake the Santa Wake the Santa in this Christmassy puzzle game by eliminating the blocks and making the snowflakes fall on Santa.
Tiled Quest .
Parking Passion .
Ufo Run .
Spect SPECT is an challenging and addictive 2D space shooter.
Roxelane True Make Up Combine different hairstyles and makeups, as well as crowns and robes for Roxelane, the most powerful woman of the Ottoman empire.