Bad Ice Cream 3
12/12/2015
Break blocks of ice, and eat the fruit to win! Bad Ice-cream 3 lets you play as vanilla, chocolate, and strawberry frozen treats. You will face hungry animals and monsters in 40 icy levels. Create your own icy barriers for protection!
Category:action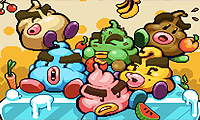 Bad Ice Cream 2 This rude dude isn't bad to the bone, he's bad to the cone. Help him gobble up tons of tasty treats.
Bad Fall Move Left/Right using1. Keyboard Arrows2. Gamepad3. Touch the screen.
Back to Santaland: Winter Holidays Try out all of these puzzles as you travel down a path to an enchanted castle made out of candy canes.
Back to Santaland: Snow in Paradise It's snowing on this tropical island. Enjoy the weather while you connect all of these Christmas ornaments.
Back to Santaland: Merry Christmas These puzzles will help put you in the perfect mood for the holiday season.
Back to Santaland: Christmas is Coming Match up the ornaments as you make your way through this winter wonderland.
Back to Candyland 5: Choco Mountain Return to the enchanting land of candy for a puzzling trip up the slopes of Choco Mountain.
BabyBam Controls: Hold down the screen to increase the fueza, stop pressing and shoot.
Baby Bear Mommy Bear is going to have a baby and the Daddy Bear is very excited. They about to learn how to raise a baby. It must be hard for them since it's the first time for them.
Avie Pocket: Popstar .
Avie Pocket: Birthday Avie's ready for the best birthday ever! Enter the bakery for that perfect birthday cake with juicy flavors and get Avie dressed up to be the centre of attention.
Autumn Girl Dress Up .
Astro Digger Astrodigger is single-player HTML5 arcade game. Meet Astrodigger and give him aid in collecting gold and minerals. Astrodigger appears on the alien planet with a special purpose.
Animal Heroes .
Angry flappy tomato If you tap on the left,low corner, on the angry tomato, you can detroy the cheesburger's in your way, and with help from Super Drops coming along the way, you win more bullets.
Angela Dress-Up Pick one of the items category and select the desired item. Tap on the item icon twice to remove it.
Angel Cutie Maker .
Android Escape .
Ancient Ore Step inside this treasure mine and find out how quickly you can match up all of these precious gems.
An Unnamed Cell Use mouse to move your red cell around.