Super Loom: Starburst
12/01/2016
Create an awesome Starburst bracelet in this colorful new Super Loom game!
Category:girls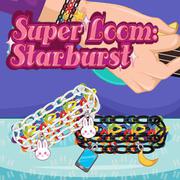 Babel .
Fit it quick .
Wake the Santa Wake the Santa in this Christmassy puzzle game by eliminating the blocks and making the snowflakes fall on Santa.
Tiled Quest .
Parking Passion .
Ufo Run .
Spect SPECT is an challenging and addictive 2D space shooter.
Roxelane True Make Up Combine different hairstyles and makeups, as well as crowns and robes for Roxelane, the most powerful woman of the Ottoman empire.
Treasures of Montezuma 2 Have an adventurous journey and hunt the precious jewels in this classic Match3 game for every age.
Tea Treatment .
Smarty Bubbles X-MAS Edition Ho ho ho! It's wintertime! Our fantastic bubble shooter Smarty Bubbles is now shining in a beautiful winterly look.
Fairy Princess The Fairy Princess needs an enchanted outfit. Dress and style her by picking clothing items and accesory to create the perfect look.
My Kitten Make your own, cute kitten by matching different features such as color and pattern of fur and shape and size of nose and ears.
Fluffy Egg .
Wild West Solitaire The wild west and card games go together like peanut butter and jelly. Pretend you're in a saloon, sort the cards and clear the field.
Beauty Cat Salon .
K.U.L.I. .
Euro Keeper 2016 .
Ice-Cream, Please! Combine flavors, toppings and fruits, create the perfect ice-cream cone and please your customer.
Kiba & Kumba Jigsaw Puzzle Go on a puzzle adventure with Kiba & Kumba! 40 beautiful jigsaw puzzle levels are waiting for you! Simply drag and drop the pieces on screen and finish the picture.