Snow Smasher
11/02/2017
Train your reaction skills with this winterly revival of the classic breakout game!
Category:breakout,arcade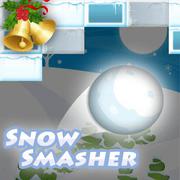 Gin Rummy Classic .
Tina Back To School .
Elsa Bubble Shooter .
Rival Rush .
Jigsaw Puzzle XMas .
Civilizations Wars Master Edition Civilizations Wars Master Edition is a fast thinking strategy game and combines four different games in one.
Magic Jewels .
Tina - Learn To Ballet .
Cowboys vs. Martians Aliens have come down on earth and want to take over.
Jelly Collapse A new Match3 puzzle is waiting for you to use your logical skills. Join at least 3 jellies and gather bonus points for bigger combinations.
Jewel Duel Be a hero and fight against evil creatures! Swap tiles and create combinations of at least three identical stones to remove them from the field.
Moto Fury .
Candy Bubble .
Tower Rush .
Bubble Spirit Combine at least 3 same-colored bubbles to remove them from the field.
Tina Wedding .
Jump With Justin .
My Wedding Create the perfect bride look for a dream wedding by matching the dress with beautiful accessory and finish it with the hairstyle.
Nut Rush Help the cute squirrel in Nut Rush to jump from branch to branch, without falling down. Mighty levels will help you improve your skills.
Chainy Chisai Medieval .