Snap The Shape: Japan
11/04/2017
Snap The Shape Japan is the sequel to the popular puzzle game where you have to fill different patterns with pieces.
Category:puzzle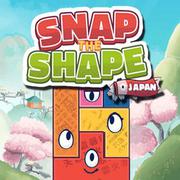 Juicy Dash Prove your skills in this addictive match3 game.
Airport Rush .
FreeCell Solitaire Classic .
Snap The Shape: Spring .
Pilot Heroes .
Momo Pop .
Fashion Yo!! Become a trendy fashion designer and create your own collection! Style your mannequins and present your awesome outfits in your show room.
7 Words Look at the tiles and tap on them in the correct order to unscramble the 7 words.
Hex Zen .
Zucchini Spaghetti Bolognese - Cooking with Emma .
Ancient Mahjong In this relaxing Mahjong version your task is to combine two of the same Mahjong stones to remove them from the field. Only free stones can be combined.
Word Bird .
Quick Quiz Train your reaction skills and test your knowledge by answering all questions as quick as you can with this challenging quiz game.
Happy Pony .
Twins Enter a mesmerising trance of co-dependence in Twins. The rules are simple: control two vessels in sync, survive against all odds and keep calm.
Kitten Match .
Sery Runway Dolly .
Turbotastic Get the highscore in a thrilling street race with Turbotastic! Gather power-ups, coins and presents that help you increase your score.
Chip Family Meet the chipmunks Bob, Marge, Steven and Alice! Winter is coming and your task is to collect as many acorns as possible in 50 challenging levels.
Angry Necromancer The necromancer needs help! Defend the tower against zombies with your destroying spells.